As Christmas approaches and the year draws to a close it is time to enjoy the evergreens in the garden. I always suggest that you concentrate a collection of plants with winter interest, either somewhere that you can see as you arrive at your home or in a view that you see on a daily basis from a window.
I like plants that have good shape and colourful foliage. Chameacyparis pisifera Filifera Aurea is a golden foliage conifer with long thread like leaves and a lovely rounded shape. Allow it space in an open situation and trim the shrub annually to keep it small. Plant it near a Chamaecyparis lawsoniana Bleu Nantais which has grey blue foliage and a neat upright habit.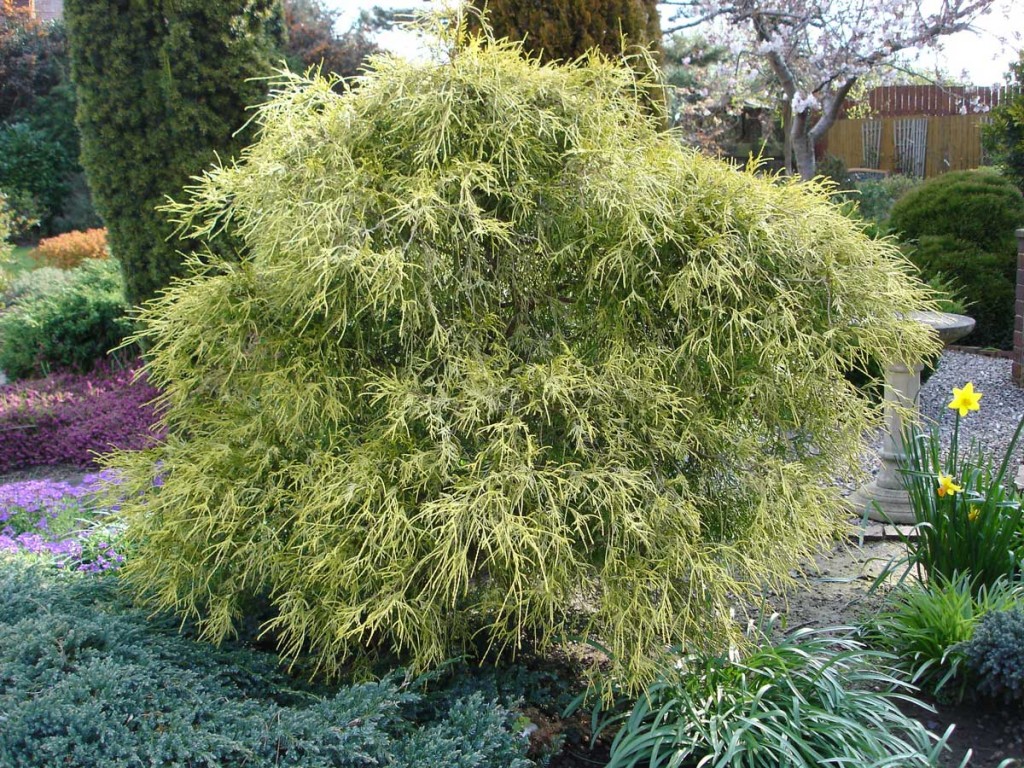 Another evergreen that looks colourful in winter is Elaeagnus ebbingei Gilt Edge or the variety Limelight. Both have yellow and green leaves and Gilt Edge has the bonus of fragrant tiny flowers in autumn. Easy to grow and keep it clipped to shape. These three shrubs would form a good background to lower growing plants such as Euphorbias, large or small. These too are evergreen and in winter, when the frost comes along, are tinged with silver on the shiny leaves.
I have included a photo of a simple, yet effective evergreen planting. This combines five plants which look good all year, require minimum maintenance and prevent any weeds growing. This combination can be used on a smaller scale. The plumes of the pampas grass at the back are probably the smaller variety, Cortaderia selloana Pumila which will get to about 1.5m tall. In front is the chocolate brown foliage of Pittosporum tenuifolium Tom Thumb, a low mounded shrub. Also adding contrast with golden yellow is Euonymus Emerald n Gold. Some lavenders and a Skimmia complete the design.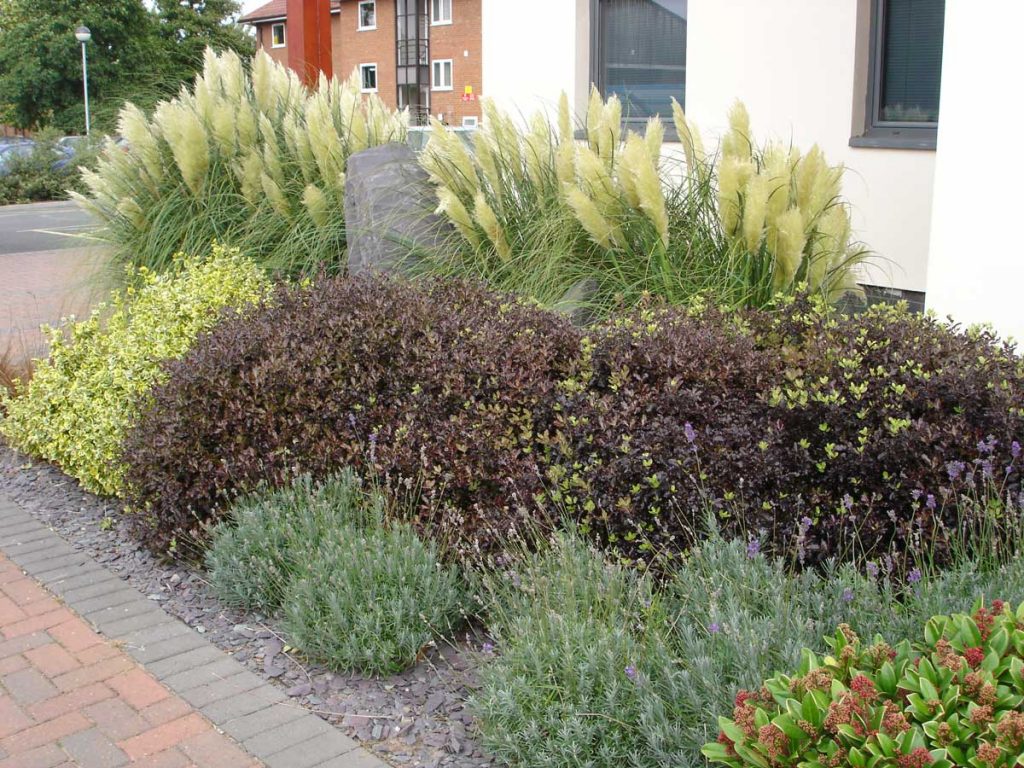 Do not forget that some plants, if left unpruned have striking shapes in winter especially frosted. Sedums, Hydrangea flowers, Achillea and Crocosmia seed heads (pictured) all add to the restrained winter palette of colour and shape. Then you have the scented shrubs like Sarcococca or Viburnum bodnantense Dawn to welcome you home with honeyed scent.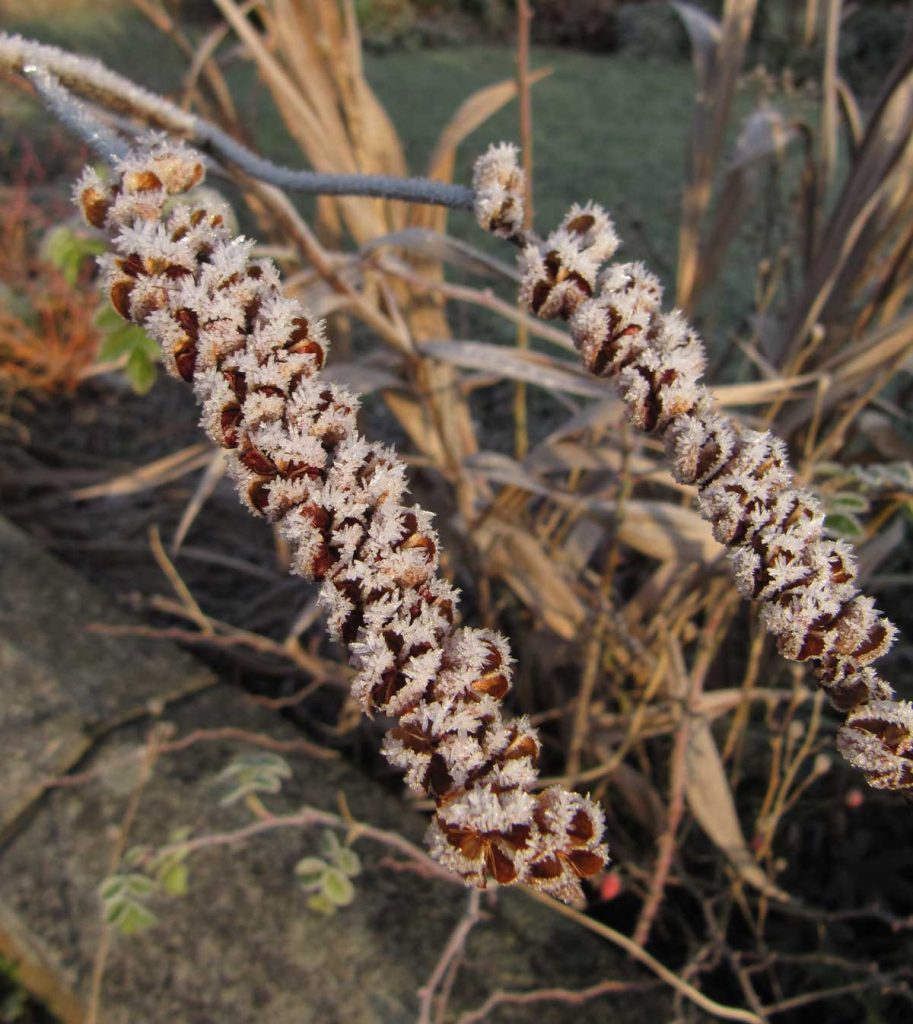 Complete the cutting back of dead foliage from perennials and remove wet leaves from sitting on top of plants and causing them to rot. Mulch around all plants with 4 cms depth of well rotted organic matter to improve the soil for next year.
Lightly water any plants in greenhouses but do not let them stand in water for any length of time as they may freeze in low temperatures. Plants in pots outside should not stand in water over winter and those more tender plants that could suffer if the roots are frozen should have the pots wrapped in bubble wrap to protect them.